English video adaptation by Multiplayer.it (original video) and @RisingFunGaming (dub). Enjoy!
"(I would be ready to sell my soul to Satan to do the Italian for it, I'm a massive early animation nerd)"
That was me at my most honest (and maybe a touch unprofessional) while helping out Vladimir from Riotloc.
It was May 2017 and they were looking for some tips and ideas about handling Japanese text in the context of Cuphead, an eagerly awaited indie game with one very unique trait: being fully animated by hand using the rubber hose style of 1930s cartoons.
I had recognized the game from a single screenshot because, well, I am a massive animation nerd: my VHS collection stretched proudly from Feline Follies (1919) to West and Soda (1965) and my Kindle library still looks like that...

That 1930s flavor
While Cuphead is focused squarely on gameplay, with Run 'n Gun terminology like "Parry" and "EX Shot" as a core layer, the narration is peppered with era-appropriate slang.
"Nitwit"! "Fine pickle"! "Shake a leg"! Cartoons of this era not only looked but sounded differently and we had to absolutely maintain that feeling. However, there was one major problem with being faithful to 1930s Italian...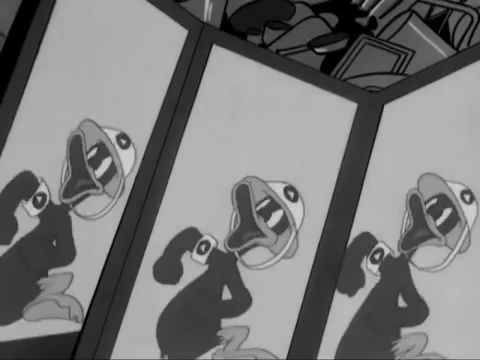 Italy had been a fascist dictatorship since 1922 and the 1930s bore all the marks of a decade of totalitarianism. Not only foreign cartoons were banned altogether in 1938 but earlier translations were tightly controlled and edited by the regime, which led to an unmistakably rhetorical tone.
Matching it would have been historically accurate, but also quite contrary to the fun and cheerful spirit of the original. We needed to look elsewhere.
Gian Burrasca, Mickey Mouse and Kinder Eggs
In the end, we found a trio of inspirations that could give "raindrops on roses and whiskers on kittens" a run for their money in terms of everyone's favorite things.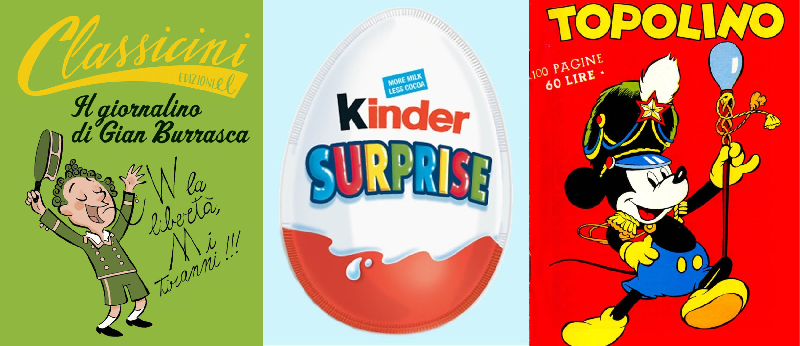 The first was Il Giornalino di Gian Burrasca, a well-loved classic of children's literature. It was ideal for us because it was at the same time refreshingly direct (it's meant to be the diary of a kid), decidedly vintage (first edition in 1907!), and instinctively familiar through its multiple movie and TV adaptations.
Then we looked at another childhood icon: Mickey Mouse or more precisely, Mickey Mouse magazine. With up to a million copies sold weekly since 1949, it was an inevitable reference for the type of comic mischief we were looking for.
While the magazine is still published today, via a very active school of Italian cartoonists, we took cues from the decidedly vintage #1 issue from 1949 (reprinted in 2001).
(Interestingly, while the original US stories always had a penchant for slang, many Italian parents buy the weekly Topolino for their kids precisely for its impeccable --and sometime downright refined-- Italian writing)
And the final source of inspiration was... Kinder Eggs! Or more precisely, Daco's Confetti, the copy-writing team that -among other things- helps create Kinder Joy's games and character design.
Their involvement was a lucky happenstance: since each level of the game starts with a mock movie poster, with the boss name in the credits and a pun as the title, we thought of roping in someone with real animation experience.
Through the recommendation of our old friend Giulia Barbieri (who was hiking through Mongolia at the time -as you do-) we got in touch with Luca and Paolo from Daco's, which then went through our list of names and titles and punched it up with some masterfully cringe-worthy puns.
All in all, it's a translation we're proud of: fluid enough to be enjoyable on screen yet rich and humorous enough to be memorable.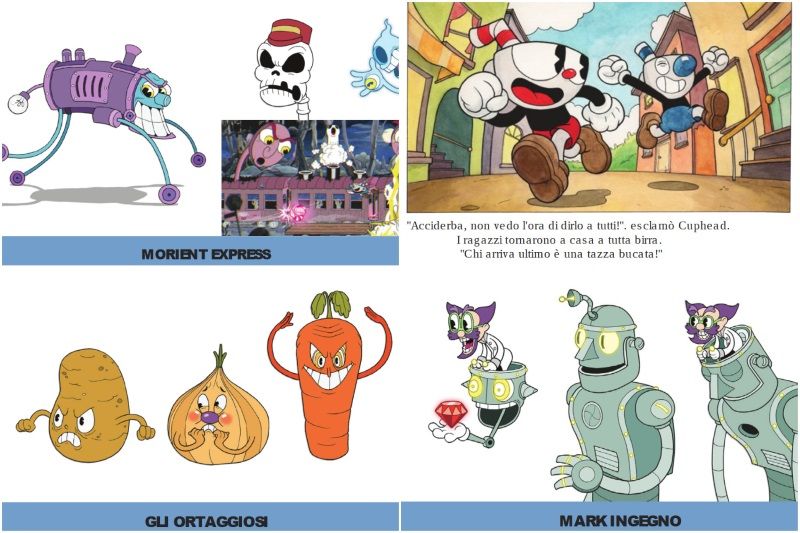 So, where's the Italian version?
Good question :)
Although the translation was completed and delivered on time, the game so far has only been available in English.
The last mention of a localization was just before launch, when Studio MDHR posted the following
Cuphead Localized Language Support: Update

Here we are, just 10 days away from the launch of Cuphead! We're hard at work and can't wait to ship on September 29.

While we are excited for that day, we are very crushed to have to share that we've made the decision to launch Cuphead without localized language support (meaning: English only). Our team of 14 is currently focused on polishing Cuphead but rest assured, localized language support is a top priority that we will work to add in an update as soon as possible.

Thank you for supporting Cuphead throughout the years and we'll have more to share in the future on when you can expect localized language support.
A group of Russian fanlators (and former pirates) has shed some light on why the localization process is so complex.
One of the best practices in localization is to keep text neatly separated from code: the game engine should sit on one side and all the strings should sit on the other, ready to be pulled and displayed as an external asset.
Cuphead goes one more step in the opposite direction: not only text isn't stored on its own, it's not even an element of the game at all!
Many bits of text are actually an integral part of the graphics displayed on the screen ("baked in"). In the case of the intro, they are inside the frames of a real life video of pages being turned!
Unless the whole system is overhauled (for example by adding a crude subtitle overlay), making localized versions would require redoing all those graphics and storing them next to the original data. This for every language and each single time even a single comma needs to be changed (the game has no idea that those have text after all).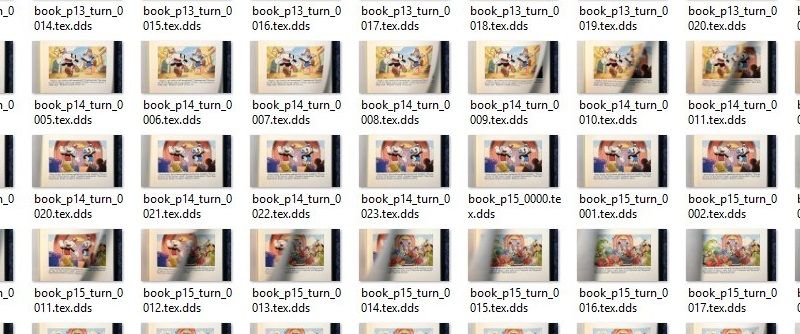 So when the announced language support will arrive? It's hard to say. Studio MDHR is now well-known for working slowly but surely: Cuphead itself has been in development since 2010 and we all agree that it was well worth the wait.
But even if it never comes to fruition, I must say that I enjoyed working on the project. Because it gave us room for trying new things and, well, because I'm a massive animation nerd.